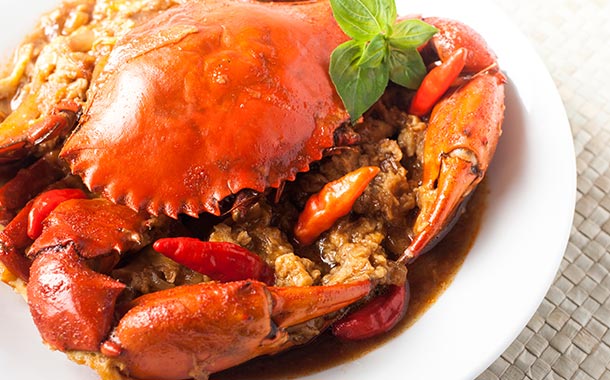 It is no secret that in Singapore people are obsessed with eating. Finding endless queues for the best  food in town at any time of the day is quite normal. Singaporean cuisine is among the world's best and you can easily detect a blend of Malay, Chinese, Indian, Western, and Indonesian influences, a very interesting diversity. Whether your stay is for a few days or more, the following list of dishes should definitely be on your food trail.  
Chilli Crab
Leaving Singapore without tasting their crab is a crime in itself! There are a lot of kinds from all over the world and are cooked in so many different ways. The most famous one is the giant Sri Lankan crab and the locals prefer it cooked with chilli sauce, which is the ultimate national dish. The sauce has a sort of sweet but spicy tomato taste and the dish is usually served with fried mantis (buns), which are dipped in the sauce for extra flavour. The crabs are boiled first and then fried to avoid the meat sticking to the shell. Other recipes that are equally delicious include Black Pepper Crabs, Crab Bee Hoon, and Salted Egg Crabs. Your best bet with Chilli Crabs is Roland Restaurant, the originator of the recipe.
Hokkien Mee
Considered a Singaporean speciality, Hokkien Mee, sometimes referred to as Hokkien Prawn Mee, consists of stir-fried Hokkien noodles (or flat egg noodles) with prawns, slices of chicken, squid, and fish cake seasoned with soy sauce, vinegar, and chilli. You cannot go wrong with Gelling Lor 29 when looking for the best Hokkien Mee in Singapore, as they are the only ones still using a charcoal stove to fry the iconic dish which makes it all the more tasty. This dish has two variations; one is more soup-like with a combination of yellow noodles and thick bee soon (rice vermicelli) and the other is dry using the same noodles but with thin bee hoon. 
Katong Laksa
Laksa is without a doubt one of the tastiest dishes Singapore has to offer. It consists of thick rice vermicelli noodles in spicy coconut curry gravy with shrimps, fish cakes, eggs, and chicken meat, a combination of Chinese and Malay cuisines. The most popular type of Laksa in Singapore is called Katong Laksa, in which the noodles are cut-up with cockles and tofu puffs added to the mix. Here's a small tip for when you're eating Laksa; try rubbing your soup spoon against the bottom of your bowl! It will feel like rubbing it against fine grains, which are the residue from the dried prawns within the gravy providing unbelievable taste. Roxy Laksa, located at East Coast Lagoon Food Centre, is where you want to try the traditional style Katong Laksa. This food centre is the only one by the sea and has various other great restaurants to discover too.
Fried Carrot Cake
No, we don't mean the dessert. Fried Carrot Cake, or Chai Tow Kway, is actually made with "white carrot," also known as radish cake cubes. White carrot is stir fried with eggs, preserved radish, and seasonings for flavour. Chilli can also be added for a spicy kick. The dish can be cooked in two different ways. The "black" carrot cake is fried with dark soy sauce providing a sweet taste, while on the other hand "white" carrot cake is simply fried only with beaten eggs for a crispy crust. The best carrot cake in town is at Fu Ming Shu Shi, Redhill Food Centre. You don't want to miss it. 
Fish Head Curry 
Another famous dish in Singapore is the Fish Head Curry. As the name suggests, it consists of a huge fish head and vegetables cooked in curry sauce and served with rice or bread. It is served usually with a glass of local calamansi, or lime juice. The dish is of South Indian origins, with influences from both Chinese and Malay cuisines. Some restaurants add tamarind juice to the mix for a sweet-sour taste. Karu's Banana Leaf Restaurant has the best fish head curry and going there allows you to discover a remote part of Singapore away from tourist trails. 
There are great deals available now on flights from Dubai to Singapore, as well as Singapore visa, so make sure you benefit from them. We warn you, Singapore is quite addictive and not wanting to leave is an expected side effect.
By Amal Ahmed